---

Obituaries, Notices, In Memoriam
Tom Reddy 1918-2013

It is with regret I have to report that Tom Ready passed away during the early hours of Friday 27th December at St. Peterís Hospital, Chertsey. He had spent Christmas day with his family and thoroughly enjoyed himself with his grandchildren and great grandchild.

I knew him during my time at Shoreditch (69-72) as Mr Ready but was fortunate enough to meet him in more recent years as Tom, although by this time he was in senior years he was always as bright as a button and amazed me when we often got talking over dinner. He will be missed and many of the ex-students will remember him with affection.

Julian Harber (72yr)
---
---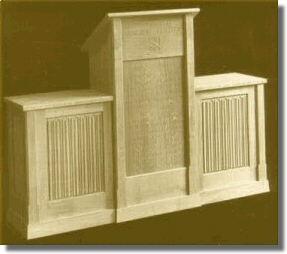 Memorial Lectern
Designed & constructed at the College in memory of students killed in the First & Second World Wars.
It was made of oak(?), and at one stage was located in the Chapel.
According to the February 1949 issue of The Column, the Lectern was made by C.A. Moscrop.
It was designed in collaboration with R.A. Williams and was constructed between February and June 1948.
The lettering and the College crest were executed by Jose Alberdi.
(the information in the second paragraph is from Helen Betteridge, Assistant Archivist, Heritage Builds Bridges Project)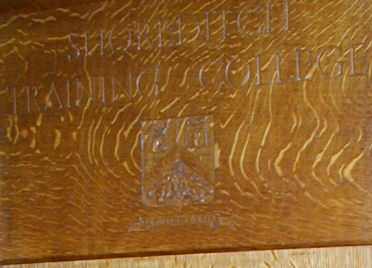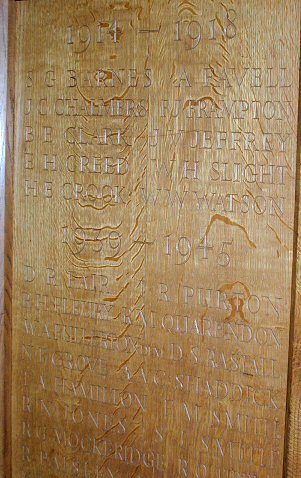 above left: College shield on lectern
above right: Student casualties in two World Wars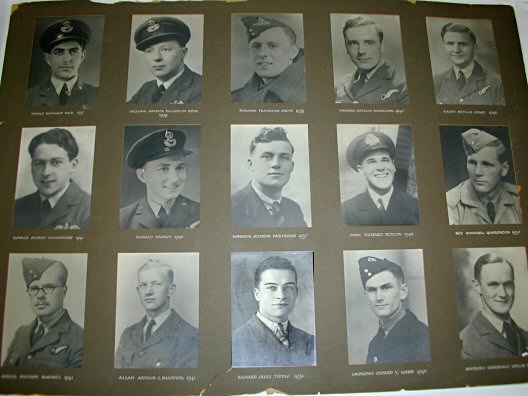 15 Students killed in World War II
May 9, 2004

Dear Jill,
Pip Shrives recently found a digest of the War Service Bulletins sent out by 'Squibs' during WW2 written by Avigdor Cannon O.B.E. A list is given of the ex-Shoreditch Students killed during the conflict and I thought, with the 60th anniversary of 'D' day coming next month, it would be a suitable time to publish it on the Shoreditch Web Site.

Alf White {1940}

These ex-Shoreditch Students were killed in action

1939 - 1945
D.R. Fair
R.H. Fleury RM
W.A. Fullerton DFM
N.F. Grove
T.A. Hamilton
R.N. Jones
R.G. Mockeridge
R. Paisley
K.A. Partridge
J.R. Purton
R.M. Quarendon
D.S. Rastall
A.A.C. Shaddick
F.M. Smith
S.J. Smith
R.O. Tipple
L.E.V. Webb
A.M. Willis
---

Dec. 2003

Dear Jill
I was delighted to find the Ditch Website on Google this evening, I was advised about this by John Bailey 60 year.i was 59 year and have ever been grateful for the time I spent at Shoreditch.

My main reason for contacting you is to put a name to the maker of the College Shield which is depicted in the History section. It was made by Bob Hoskin who produced it as his final job in 1959. Sadly Bob who hailed from Swansea was killed in a car accident last year. He was 87, and was obviously a mature student during his stint at the Ditch. I am proud to say that I assisted Bob in producing the actual shield at a garage in Staines using the wheeling machine normally used for producing body parts for motor vehicles. (This link with the garage was arranged by Jack Maynard) Bob had been a panel beater and I had been a coach builder prior to our fabulous time at Cooper`s Hill.

David G.Davies, 59 year
email: david.davies20@ntlworld.com


---
March 2001

The 1959 Valete mentions a "Walters J. ó (Glam)". That was John (Chirpie) Walters. He taught in Malaysia and Singapore, and I met him when I was also teaching there. We bumped into each other again at a reunion in 1986. During his time in Singapore he appeared on a TV variety show. By chance I saw the show and took photographs of the TV screen. Last week I came across the thirty-five year old colour slides and thought it was about time I tried to find where Chirpie was living, and let him have copies. My first look for his address was in my copy of the BFES/SCEA Association magazine. I took out my copy of the 2000 magazine and out dropped a separate "too late to print" obituary notice. John died in February 2000. It mentioned Chirpie's talents on stage in both school and staff productions, and how he always attributed his singing and acting to his Welsh ancestry.

Maurice Hann (1960 year)
e-mail: mauricehann@btinternet.com

---
Home | History | Staff | Photos | Lost Touch? | News | Links | Contact | Site Map

Copyright © 1998-2011 John Williams and Jill Sandwell