---


Year Lists and Photos

Lost Touch? Page 1 Page 2 Page 3 Page 4 Page 5 Page 6 Page 7 Page 8 Page 9 (latest)

Lost Touch? Shoreditch Technical Institute, Coopers Hill Emergency Training College

Updated contact information:

Have you lost touch with an old friend or colleague?
If you would like to try to contact a former member of staff or student of Shoreditch, please e-mail the following information to jill.sandwell@rogers.com
I will include the request in the next revision of this page.

the name of the person you are trying to find
the approximate years he/she was at Shoreditch
his/her last known address
your name
your mailing address (optional)
your e-mail address
your phone number (optional)
please include "Lost Touch" in the subject header so I will know to include your message on these pages and not in the Directory

Don't forget to look at the News and Views Page — you will find letters on various subjects there.
Is someone trying to find you? Please take a moment to check below

---
December 2018
Dear Mr. Williams,
My name is Caroline Richards and I'm trying to trace a Billy G.E.R. Lyel who was a student at Ditch 1956 ish but national service might have meant he didn't start until 59 as he went into the RAF. He was from Launceston in Cornwall and studied to be a woodwork teacher.
He was my Dad's best friend from school but lost touch after school as they went their separate ways. It is my dads eightieth birthday soon and thought it would be nice if I could track Billy down.
Ironically I am also an ex shoreditch student although it was Brunel by then. I was there 83-87.
I appreciate that Billy may have passed away but if you can come up with any information I would be grateful.
I see his name on the valete list for 1960.
Regards
Caroline Richards
---
October 2018
I was at Shoreditch Training College, Englefield Green, Egham from 1953-55. Please can you see if these two guys are still breathing & upright.
1) Alan Stamper of Nottingham area, and
2) Henry Richards from west Cornwall whose dad was a Cabinet maker. Henry probably became one late in life, he was brilliant working wood ie Rosewood particularly.
Good luck.
Ralph Rutherford

Ralph C. Rutherford, Flat 19 Margery Girling House, Gosford Way, Felixstowe, Suffolk IP11 9PE. Tel. 01394 - 270976
---
September 2018
Hello Jill
Like many others, we were 75yr but did BEd leaving 76.
Love to make contact with anyone but specifically Paul Goodliffe as he was the usher at our wedding and we're celebrating 40 years this year. We now live in Byron Bay Australia.
Kind regards
John Harrison and Jill Parsons.
Johnthornleyharrison@gmail.com
---
September 2018
Hi Jill,
I am trying to connect with 2 people.
1) Chris Tomason who left Shoreditch in 1973 and
2) Ursula Kennedy who was in my year and left in 1974. Ursula came from Tilehurst, near Reading. I have had no contact with either since I left but would love to know what has happened to them over the years and to be able to contact them again would be incredible. Hope you may be able to help.
Jean Whatling (Medland as I was in college days!)
---
August 2018
I was at STC for 18 months 1964/66 before leaving for personal reasons. If possible I would like to get in touch with BARRY ERIC CLAY who graduated in 1967. I have never known his address.
My name is Ray Dowdall, 16 Calcaria Crescent, Tadcaster, North Yorkshire, LS24 9LN.
E-mail: rldowdall@hotmail.co.uk
Phone no: 01937 832008
If anyone can supply me with any information I would be very grateful.

Ray Dowdall 1964/66
---
April 2018
Hi Jill,
I have come across some of my college pictures.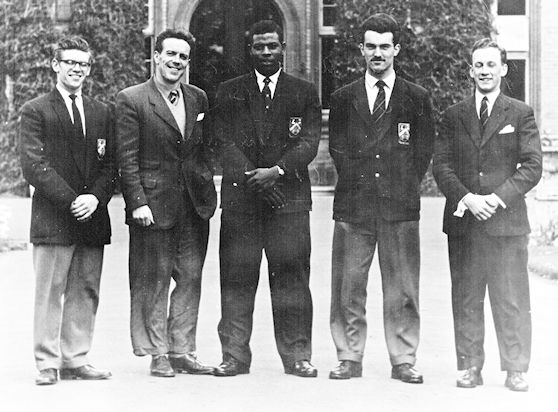 Student Union Executive 1959

All the best,
Ray Picton (1960)
rapicton@telus.net
---
March 2018
Hugh Frostick is writing a biography of Ralph Rutherford, who was at the college in 1953-55 after leaving the RAF as a jet fighter pilot (he wrote an article for the college magazine about his flying days).
Ralph kindly provided some photos, which you can see here.
Ralph would love to get in touch with fellow students Charlie Stobbs from Wales, Henry Richards a cabinet maker in Cornwall and Tim Yeo also in Cornwall - they can contact him via Hugh at this email address: hfrostick@gmail.com.
Ralph would also love to see a copy of that article if anyone happens to have kept the magazine.
---
March 2018
Dear Jill
I was on the one year course 1968 to 1969 and have attached the pass list from my year. I would love to hear from any of them, however I know Syd Boothroyd has passed away.
I went on to teach in Luton at a secondary for for years, and then went into FE/HE in construction education, becoming HOD of construction at City College Norwich.
I am now retired and living near Norwich.
Des Millward
5 St Mary's Road
Ashby St Mary
Norwich
Norfolk NR14 7HN
email: dmill10185@aol.com
Tel: 01508 480143
Kind regards
Des Millward
---
January 2018
Does anyone have any information, or to have witnessed the band Queen playing a concert at the Shoreditch College of Education in December 1970, or at any other time that I don't know about?
Please contact Gary at garytaylortqy@aol.com or 07944435883.
Many thanks,
Regards,
Gary Taylor
---
December 2017
Hi
I was at Ditch 69-72 and am trying to contact -
Dave Webster, Steve Towler and Ken Humpherson from my year.
If you have their contact details I would be very grateful.
Regards
Jon
Jon Warwicker jonwarwicker@gmail.com

- Chairman and Local Group organizer of the Association of Pole Lathe Turners and Green Woodworkers - http://bodgers.org/
- Secretary of Fairlop woodturners(AWGB) http://www.fairlopwoodturners.org/
- Freeman of the Worshipful Company of Turners and a member of the Howe committee.
- Visit my blog - http://jonwarwicker.blogspot.ca/
---
November 2017
Hi Jill,
Great to see the Ditch website is up and running again. Well done!
Attached is a photo of a small group of us from 68 year having lunch in Marlow. From the left going clockwise --- Barry (Moo) Taylor, Viv Williams, Bob (Hank) Woolridge, John (Sandy) Saunders, Tim Watson.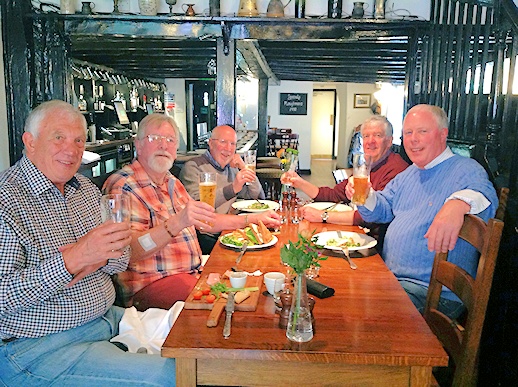 Five Old Fat Blokes Empty a Pub
We meet up once a year or so for lunch and would welcome anyone from 68 year who would like to join us. Probably the easiest contact is myself at timbertim21@gmail.com .
Many thanks,
Kind regards,
Tim Watson 190/68
---
Dear Jill –
My name is Philip Shirtcliff and I was at Shoreditch College from 1955 – 1958, and I would love to get back in touch with some of my old friends from then. I already know about Reg Stoker, Alan Quartermain, Chris Perfect and John Risbrook(whom I still see quite regularly).
Old friends that come to mind are: Bob Squance, Gordon Senior. And I am sure I shall be able to think of others.
The other matter that I am very keen to acquire are copies of the old end of year magazines called, I think, "Column". I have one for 1956/57. But would like those for 1955/56 and 1957/58.
Are you able to help in either of these matters? I would be most grateful if you can, or put me in touch with any old student who could.
Many thanks
Philip Shirtcliff
---
Dear Jill
Re: Searching for a student from the time of 1970-73
As curate at Egham Parish Church at that time, I met a student named John. My only recollections are that he lived in Cornwall and came to our church, but I would now like to be in touch with him. I know this is a "long shot ", but thought I would ask.
Thank you for your work.
Good wishes
Richard Grinsted
---
Hello John
I was at Shoreditch from 1964 to 1967, and as it is coming up to fifty years since I left, I thought it about time that I tried to make contact with anyone who remembers me. My name is John Smith although I am possibly better remembered as JD. I was in group 10 of that year; served on the social committee; was on the carnival committee and was a founding member of the Meccano club.
It would be good to hear from anyone who was in that '67 year, but especially other members of the Meccano club.
I understand from the college website that you are trying to compile a directory of past students and staff, and I would be very happy to provide my details if you are continuing with this project.
Looking forward to hearing from you, and hopefully some old friends.
John Smith
Updated: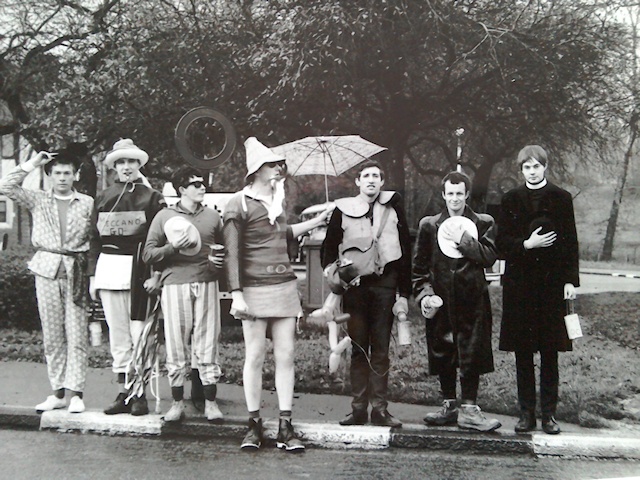 ....... The picture was taken during Carnival week in November 1966, and has a number of Meccano club members shown in their best carnival gear. (I am the vicar on the right !)
The photo actually appeared on the front page of a local newspaper, with a brief account of other activities during Carnival week.
Are you able to put the photo on the Shoreditch website to jog people's memories? I would be more than happy for you to do so, if possible.
Best wishes
John Smith
---
Hi, just found this site and touching base.
Pleased to hear from anyone who might remember me (rag committee 68, soc sec 69-70). I moved in to special ed after probationary year in secondary but after 25 yrs finally escaped in 96 to work as music tutor and musician with steelbands in the north east, more or less retired now but can't resist doing little bits of work (play?).
Dave Edwards 1967-70
daveedwards@blueyonder.co.uk or gmail
---
Hi Jill
I attended the college until 1979 as a trainee PE teacher. There were only about 15 of us, I would love to get back in touch with any of them.
One of the only guys whom I can remember including surname was Richard Tidy. There was a Roy, Nick, Sharon and Teresa among others.
If you have any information that might help me contact them, I would be very grateful.
Yours sincerely

John Dixon

email: jarman1957@hotmail.co.uk
---
Name of the person trying to find - Keith Tracey
Approximate years he was at Shoreditch – 1953-1957
His last known address – Canada
Jill Anderson
email: personal: jilly20@icloud.com | work: jill.anderson@ulh.nhs.uk
---
Hello Jill,
I am making contact in memory of Kenneth J Ledbury who sadly passed away in December 2007. He was a Student at the College from 1956 to 1958.
I am including photo of the First Year of 1957, Article about The Stompers from The Column Magazine 1957, and photo of Kenneth with his Austin 7 named Meriel which was no longer in his ownership by the end of 1958.
Would be interested to hear from anyone who has memories of Kenneth, in particular photos or memories that they wish to share of The Stompers when he was their Washboard Player. Also, does anyone remember what happened to Meriel, or have any photos showing the number plate, wonder if she is still around or on the road.
Many thanks & Kind Regards,
Karen Ranger (nee Ledbury)
---
Hello John,
I am Peter Burrows, 1966 year. I was Secretary and President of The Shoreditch Society; formerly Shoreditch College Club in the 70's and 80's.
I am writing a sort of autobiography and wonder if you can give me some more precise details than my memory can recall.
The 1966 year may be distinguished in that we never had a 'Exhibition' which was usually quite a grand affair when final year men's work was displayed in the hall and the College was open to visitors.
The College Club usually held their AGM on the Sunday.
Shortly after our final examinations were complete and after the famous final job night was over in May 1966 there was a serious outbreak of Salmonella food poisoning. Several men were hospitalised and I remember the night patrols of the corridors checking for men collapsed in their rooms. On the morning after, the College closed and we all went home.
Apparently the cause was a carrier, a cook.
Do you have any record of this?
I know it was in the National papers but have not been able to find it on line (and am too lazy to go searching micro-fiche in our central library!)
Thank you for all your efforts keeping the Shoreditch name going.
I often wonder how much more successful the Shoreditch Society would have been if we had had e-mail in the 70's when everything was done by Gestetner and Royal Mail!
Hope to hear from you.
Peter Burrows, 1966
---
The just discovered College website, coupled with my attempts to find the entrance off Coopers Hill yesterday as I wandered over the Green prompted me to search on line. Wife and daughter, who is in her final year reading history at Royal Holloway, finished lunch at the Barley Mow while I walked the dog down memory lane looking for clues to my past!
So much of my life was shaped by Shoreditch and many of the tutors from my great two years there have left their stamp on my life. So first a heartfelt thank you to your Father's memory. He once said, 'Gentlemen, if you have a craft, you are saved'. he was spot on for me.
I met my first wife when she was at Holloway when I was able to provide transport to our mutual friends with my old Jag convertible. She and I parted after many years and while working in education, I met my second wife and it is our daughter who chose Holloway from her list of country wide uni's with I hope, no influence from me and now she too is just about to sit her finals in History.
Now some expressions of real gratitude. I have a passion for understanding the psychology of learning and seeing that ability in any field so often is hampered by self doubt engendered by the opinions of perhaps teachers, even parents, etc. That all started with the great Irish lecturer who would repeat to us so often that 'the social and emotional growth and development of children is key to their learning'. That became my mantra as a young teacher and it amazed me just what my pupils could do when given the belief that so much was possible. Colleagues got kids making teapot stands, etc while we made hovercraft, go-carts, steam engines, guitars and attracted lots of national attention for all that. All down to the wonderful inspiration that Shoreditch gave me. (I have spent the last 20 years spreading the word re self- image psy. and effective thinking in both community and education across the UK and Ireland.)
Mr Tuckett convinced me I could paint, Mr Adams gave me a lifelong love of pottery - some made with him is still here in one piece! This is enough history for you yet it is lovely to acknowledge that my life owes so much to your father Mr Williams and the other tutors who certainly 'lit my fuse'!
(Friends who come to mind from my time were John Etheridge, Mark Caldicott, and Mick Richards. Some names have got lost in the memory banks!)
With my thanks and kind wishes
Malcolm Haas
---

Trying to contact: Tony Martin, Brian McCormack, David Lee, Leslie Mathias, Brian Jenkins, I know where he is.
I qualified in 1960 but stayed on for an extra year. Claim to fame was an extra in the French Mistress singing with others the French national anthem. Started at college in black military style huts near the chapel. Moved to main building and in digs in Englefield Green. Excellent college. 42 years teaching now retired touring with my coachman caravan and my Saab 95 aero car. Wood turning in my workshop to keep my brain working.
Regards,
Ken Mathias 1958/61. 3 Farm View. Rayleigh, Essex ss6 9pt
01268 786048
---
I should love to be in contact again with John Harding, a brilliant teacher who did his final teaching practice at Horsenden Secondary Boys' School in Greenford, Middlesex where I, at that time, was Head of History.
He was a collector of Chelsea porcelain.
Details: John Harding, At Shoreditch from 1963 - 1966 approximately. Last known address: in Ickenham, near Hillingdon, Middlesex
Mike Hall
Address: Flat 2, St. Mary's Lodge, Príory Road, Chichester, PO 19 1 JB
e-mail: michael.hall77@tesco.net
Phone: 01243 792358

---
Dear John
I was very pleased to discover the existence of the STC web page as I have had little or no contact with the College or friends since leaving in July 1946. This is not surprising in view of the College's relocation and my own 'call up' a few weeks after leaving. I much regret this and will try to catch up. I do not know who of my year group are left as most must also be well past their 'sell by' date. Perhaps some will remember my production of Cinderella in the main hall and/or a two piano performance with Frank Brereton of Grieg's Piano Concerto also in the Great Hall. I have a printed programme of the former and also several copies of 'The Column' which could be passed into the Archives - if wanted. I wil append or list those in my year group most of whom I remember well.
Following two years service in the Royal Army Education Corps and having been trained as a Secondary School Handicrafts Teacher I was on demobilisation posted to a Junior School by Essex Education Dept. to whom I was contractually bound. There I spent the next 17 years becoming much involved in music education until when about to accept a Headship I was invited to become Music Adviser in the newly formed London Borough of Redbridge - a position I finally accepted. Later I was awarded both the Queen's Jubilee Medal and an OBE in 1978.
Although I had perhaps not made the best use of my craft training being originally the student 'most unlikely to succeed' I feel I can be proud of my years at Shoreditch. I would love to hear of others success. The craft team Messrs. Williams, Giles and Lumley taught me all I know and are remembered with respect and affection. How I ever made it - I shall never know!!
Malcolm Bidgood - 1944 - 1946
Note: Malcolm has provided a Pass List for 1946, here

---
Hello Jill,
I have been sorting out goodness knows how many old photographs and memorabilia, including a few old pictures taken at Shoreditch.
I attach a picture taken in 1959/60 of a few members of the college rifle club. We used to shoot at Windsor Rifle Club range, and later would meet at a coffee bar in the town.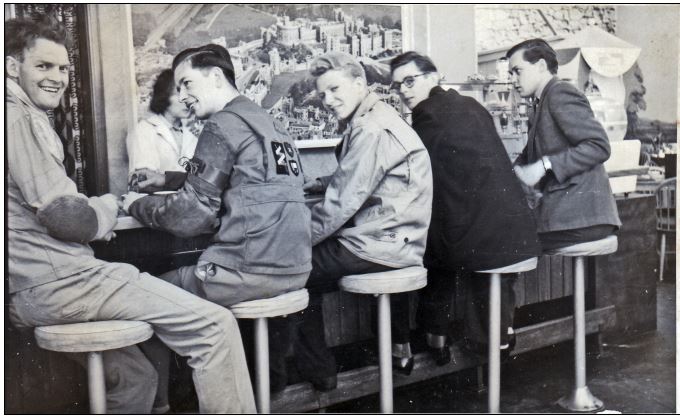 Those members shown are:-
1. John Pumfrey (supplementary year),
2. Maurice Hann 1960 year,
3. R.M. Slater, 1961 year,
4. John Hopkins 1961 year
5. D.E. Goddard, 1961 year. (always had a pipe in his hand!)
I have managed to locate John Pumfrey and John Hopkins, but should be pleased to find the others.
I have a few more pictures of those men shown (and others) at the Windsor range, and some of the Rifle Club Dinner held at (The Packhorse?), with Mr Clapham and Chris Burrows (president students' union) as our guests. Should be pleased to forward these pictures to any of those who remember those times.
Kind regards,
Maurice Hann (1960)
UPDATE, March 2017: The two "unknowns", R.M. Slater & D.E. Goddard, have been named for us by Rex Needles (1961). Thanks Maurice and Rex for filling in the gaps.
---

Hi Jill,
I was at Shoreditch from '68 to '71, just found your website, I would welcome getting in touch with anyone from Reed 300 at that time.
Keith Clark
Croft Cottage
1 West End Croft
Burgh by Sands
Carlisle
Cumbria CA5 6BT
01228 576116
07979401352
---
I am wishing to contact Mike Davies (from West Wales) who trained with my brother David approx 1960-63. We last spoke about 2004.
Please contact
Peter Steer

---
Home | History | Staff | Photos | Lost Touch? | News | Links | Contact | Site Map


Copyright © 1998-2019 John Williams and Jill Sandwell
http://www.shoreditchcollege.org

.